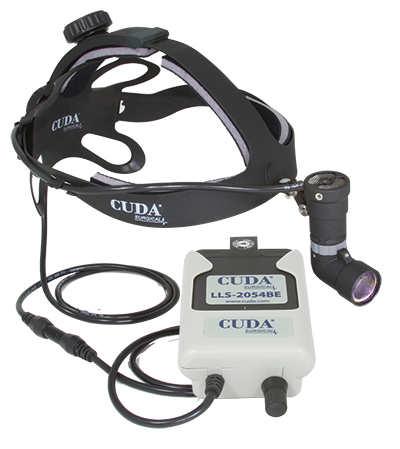 CUDA Surgical's LED headlight produces an unparalleled bright, white light with superior battery life so you can work without interruption. Revolutionary Rear Cranial Support design will create a new wearing experience – lightweight, comfortable, flexible and durable.
CUDA Surgical LED Headlight
Prepare to be amazed by the luminescent and feather weight feel of this 10W LED lighting system. When used at full light intensity the battery will last 2 hours 45 minutes, providing 43,000 lux of light output to the surgical site. Features an audible sound when battery charge is getting low.
A compact and highly efficient charger will fully charge an empty four cell battery in 3 ½ hours and stop charging once fully charged. Accepts 100-240V AC, 50/60 Hz input for worldwide use.